5 Important Facebook Updates in 2013
There were a ton of updates on Facebook this 2013 and they continue to implement new changes as the year comes to an end. Most of them, I'm pretty happy with as a social media manager, a blogger AND a personal user. However, there's been a major update with their algorithm from probably a month or two ago that affected many businesses that have Facebook pages. As much as I'd like to get into that, I haven't done any extensive research, but I have noticed the impact of this change on all my clients and my own pages.
So, I have listed some of the most notable changes on Facebook that affected me personally and at work. Let me know at the comments section about your own list of important Facebook updates for 2013.
Whole Photos on Facebook Pages
Before, at work, we used to worry about ensuring that the images we use, especially those with text, are resized into a square. Or at least have the most important part of the image seen when you reposition it on your timeline. Now, you don't have to spend more time resizing your images as Facebook now shows the whole image on your Facebook page's Timeline. Check out this screenshot from our food blog's page.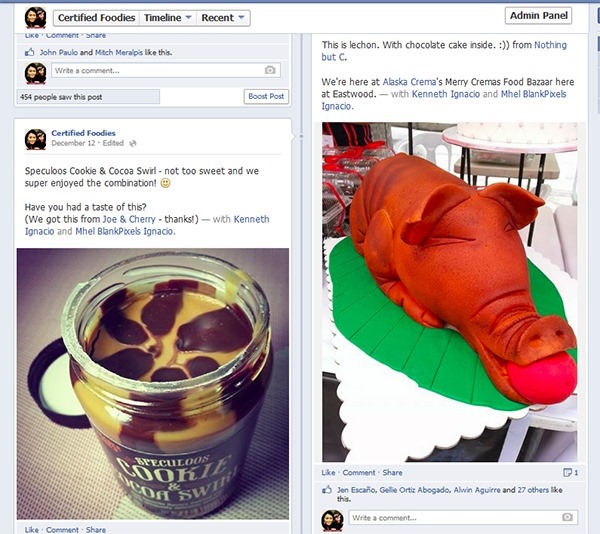 This is what I loved about Google+ and was wishing for the longest time that Facebook will finally decide to do something about it, so I'm thankful they did! 🙂
The sad thing though is this update doesn't apply to personal Timelines. You will still see that your images on your account page are shaped irregularly. For me though, I don't think it should matter since most people will see your photos on their News Feed, so they will be able to view the whole image from there. Well, unless most of your friends or followers prefer to "stalk" your personal Timeline. 😀
Notifications on Shared Photos
Facebook Page admins now get notified when someone shares their photos or posts. Before, you only see comments or likes. You can even see their caption when they shared your post.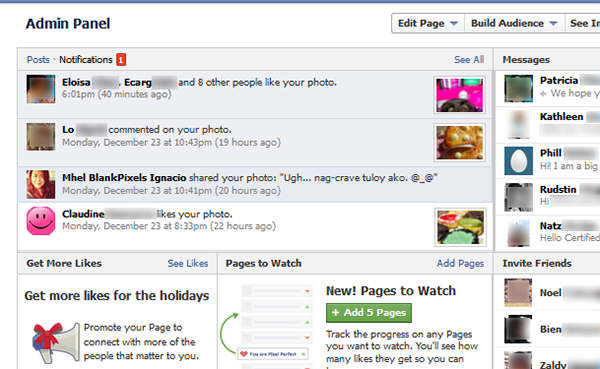 Take note that you'll only see shares from people who did so publicly. If they only shared to their friends and you're not connected, you won't be able to see it.
There's no Push notification though for this from my Facebook Pages app for Android (not sure about other devices), so you'll have to open your page in the app to see them.
New Facebook Page Insights
Okay, this is not entirely new, but I love the new format. Makes my job as an online community manager/social media manager easier. You can quickly see a summary of how well your posts worked, which ones didn't do well, and the amount of engagement/interactions your posts received.
This makes Facebook Insights easier to understand, even those who are not that techie – well, I think. 😉
Even when you export the Insights report, you'll find it's quicker to get what information you need. Before, there were tons of useless data in the report. Now, it's more concise.
Multiple Photos in One Post
Months ago, you can only attach one image to your Facebook posts. If you want to add multiple photos, you'll have to add them into one photo album. Now, you can add more than one image to your posts and it'll show up like a regular photo album, but they're actually attached to just that one post.
You might be wondering what the purpose is for this feature. For me, I use it when I need to add a general caption to all the images and post everything at the same time. Before, you can only add a description to the photo album and reshare it to post it with a status message on your wall.
You can still add separate captions for each photo. You can choose to also move them into a new album anyway later on.
Other Inbox on Facebook
This is probably the most neglected feature on Facebook. I personally know people who have missed important messages because they went to their "Other" Inbox.
It's not really hard to miss, but I guess most people look at the list of names and messages when they're on this page, so they didn't notice the Other tab.
I'm pretty OC (obsessive compulsive) when it comes to notifications. Like I need to check and get rid of them right away, that's why, I guess, I never missed any messages there. Well, there were some I intentionally 'missed', if you know what I mean. 😉
For me though, if it's an important message, especially if it's about an event or press release, why not use our actual email address to contact us? Just sayin'. 😉
What other updates on Facebook had the most impact in your work or personal use? Let me know below at the comments! 🙂