An App for Moms and Future Parents
A friend of mine has been pregnant for a couple of months, and has spent a lot of time worrying about how to look after their child once they've been born, not to mention about how to stay healthy while pregnant and about appropriate baby names. Desperate to help her out, a close friend of hers decided to look for some cool baby apps on my phone, and found one from Bounty, which had everything she could possibly need in terms of advice and fun stuff.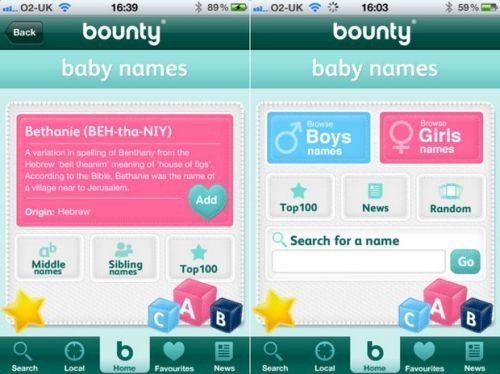 My friend was really worried about what to name her child, but after someone told her to download the app, she used the feature where you can generate a random baby name for a boy or girl just by shaking the phone. 😀 She decided to go with the name she got from the app as it was quicker than spending weeks thinking about it. Apart from that feature, she loved all the useful tips about how to cope during the different stages of pregnancy.
She told me that the app also has a number of features about health, fitness, mental wellbeing and even fashion and what maternity clothes you should wear to keep you warm or cool depending on the time of year. I might keep it in case I decide to become a mommy, and will turn to it if I ever worry about what to do when I have to change a diaper or when the baby kicks. 😉
I was testing it and I found using this app entertaining, even though I'm not a mom. It's easy to read, has plenty of great features, and it's a doddle to use. I'll make sure that when I see something fun on the app, I'll share it with my friends, especially those with kids or baby bumps. Surely, they'll decide to download the app themselves to see if what I told them about it was true, and it sure is! 🙂